Event
The African Summit on Inclusive Early Childhood Care and Education
Date
July 20 - July 22, 2023
Time
05:00 pm - 02:00 am
Location
Nairobi, Kenya
Description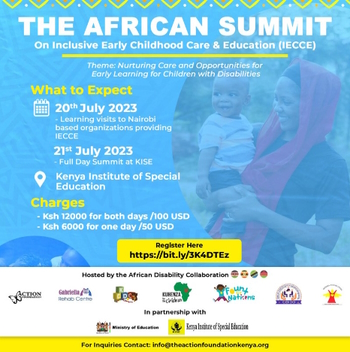 The African Summit on Inclusive Early Childhood Care Education was convened by The African Disability Collaboration, a collective of organizations working with children with disabilities in Kenya, Uganda, Tanzania, and Malawi.
The 2023 summit theme was 'Nurturing Care and Opportunities for Early Learning for Children with Disabilities'. It highlighted service provision models and innovations advancing Inclusive Early Childhood Care and Education on the continent.
The vision of the African Disability collaboration is an inclusive Africa for Children with Disabilities.
2023-07-20