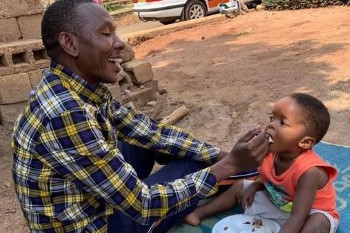 This webinar, which is hosted by USAID Advancing Nutrition (9:00-10:30 a.m. EDT), will share results of scoping and mixed methods reviews of studies examining behavioral interventions to increase family support for recommended maternal and child nutrition practices in low- and middle-income countries.
Nutrition programs tend to focus on mothers and overlook how other family members influence nutrition and caregiving during pregnancy and early childhood. There is considerable evidence that other family members, particularly fathers and grandmothers, have significant influence on food access, intra-household distribution of food, child feeding, and ultimately, over maternal nutrition and infant and young child feeding practices.
Although this reality is widely recognized anecdotally, there is limited evidence on the extent to which nutrition programs engage other family members. There is even less evidence identifying which engagement approaches effectively support optimal nutrition practices during the critical first 1,000 days, from the start of a woman's pregnancy to the child's second birthday. A comprehensive, systematic literature review aimed to fill these gaps and provide guidance for effective nutrition programs.
The speakers will look at how and why to engage families, and translate the evidence into program and policy implications. They will also describe the range of social and behavior approaches that engage family members and their effectiveness for improving nutrition behaviors in the first 1,000 days.
Presenters:
Katherine Dickin, PhD, Associate Research Professor and Director, Program in International Nutrition, Division of Nutritional Sciences at Cornell University
Stephanie Martin, PhD, Assistant Professor, Department of Nutrition, Gillings School of Global Health at the University of North Carolina at Chapel Hill
You can register for the webinar here.