| | |
| --- | --- |
| Event | From most vulnerable to most valuable: A scoping study to put young children at the heart of climate actions and environmental protection |
| Date | December 14, 2022 |
| Time | 12 noon Singapore/ Manila | 9:30am India | 5am CET |
| Language | English |
| Location | Online |
| | |
Description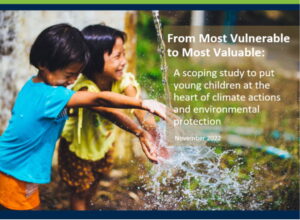 As we move rapidly into a world affected by climate change and environmental degradation (CC&ED), there is growing recognition that young children will be the most profoundly affected, but they are at the same time the least well represented in the policies and programs designed to respond to current impacts and plan for future consequences. This Scoping Study, written by the Early Start, University of Wollongong in Australia, is a response to this situation designed by ARNEC and its partners, UNCEF EAPRO and Save the Children International, to put early childhood development (ECD) at the heart of environmental and climate actions.
The scoping study brings evidence from the Asia-Pacific region and insights from experts and partners around the world for exploring the deep interlinkages among climate change, environmental degradation and ECD to support our goal of enabling ECD systems and services for young children to become more climate resilient and more adequately funded and their value better understood and considered by policy makers and climate scientists.
The webinar outlined the three components to the Scoping Study:
Global impacts survey and desk review
Sub-regional analysis and case studies
Looking forward: Recommendations and the child-centred approach
In this context, the webinar brought together the research team of the scoping study, ARNEC partners and key stakeholders to demonstrate the urgency of this report in the context of climate change, share key messages and findings of the report, and provided insights on the way forward to address the impact of climate change and environmental degradation on young children.
The full scoping study is available for download here. See abridged version here.
Speakers
Dr. Sheldon Shaeffer is currently Chair of the Board of Directors of the Asia-Pacific Regional Network on Early Childhood (ARNEC). He was formerly Chief of UNICEF's global education programme in New York and Director of UNESCO's Asia and Pacific Regional Bureau for Education. He has taught, done research, and worked in development programmes in Southeast Asia for over 50 years. His interests now focus on early childhood development and inclusion in education and learning.
Myo-Zin Nyunt is Deputy Regional Director, UNICEF East Asia and Pacific Regional Office, Bangkok, Thailand. Myo has over 24 years of experience with UNICEF in development programmes and humanitarian support in South Asia, Eastern and Southern Africa, and East Asia and Pacific regions with progressive programme management and leadership responsibilities. Previously Myo worked as the Representative to UNICEF DPRK and UNICEF country offices in Myanmar, Tanzania, Namibia, Laos and UNICEF Regional Office for South Asia. Myo has worked with international NGOs – Save the Children and Medecins du Monde focusing on health and HIV programmes. Myo holds a master's degree in public health from the Nuffield Institute of Leeds University in the UK and a Bachelor of Medicine and Surgery from Institute of Medicine 1 in Yangon, Myanmar. A nationality of Myanmar, he's married with one son.
Rushda Majeed, Chief Programmatic Officer at Bernard Van Leer Foundation. Rushda is responsible for BvLF's work in India. Previously, she helped manage Bloomberg Philanthropies' India Smart Cities Challenge, a competition to select 100 cities for central government funding as part of the country's Smart Cities Mission. Rushda has led research in 11 countries for Princeton University's Innovations for Successful Societies to analyse reforms that improve government performance and accountability. She has also served as a core team member on the re-election campaign of a two-term Member of Parliament, advised a World Bank team on case study research, and managed a global leadership programme for a New York-city based non-profit. Rushda has written numerous case studies on institutional reforms, and her writings on the subject have appeared in Foreign Policy magazine's Democracy Lab. She has a master's degree in international affairs from the School of International and Public Affairs at Columbia University and a bachelor's degree in computer science from Eastern Kentucky University.
Marc de Rosnay is the Professor of Child Development and Academic Director at Early Start, University of Wollongong, where he leads inter-disciplinary early childhood initiatives involving the University and community, with the goal of improving developmental, educational, and social opportunities for young children. Marc's own research focuses on how children become socially and emotionally competent, with a particular interest in children's understanding of thoughts and feelings in others and themselves. With his colleagues at Early Start, Marc works to translate current evidence on child development and early learning into the everyday care of children and professional practices. He also currently serves as the NSW representative on the Board of the Australian Children's Education & Care Quality Authority (ACECQA).
Joy Millan-Maler is the Early Childhood Development Specialist of UNICEF Pacific. She manages a multi-country programme on multi-sectoral coordination, policy development, and quality services for young children and their families.
Sri Hari Govind is a recently graduated medical doctor from South India. He currently works as a Climate-Health Fellow at the Global Consortium of Climate and Health Education, Mailman School of Public Health, Columbia University. In his additional capacity, he serves as the Integration and Protection Lead at Migration Youth and Children Platform, MGCY and Asia Lead of Commonwealth Youth Health Network. He is also Youth Advisor to Children, Cities and Climate Action Lab, London School of Hygiene and Tropical Medicine and Steering Committee member at Global Health Network Healthcare Information or All (HIFA).
Dr. Manjuma Akhtar Mousumi is Assistant Professor and Head of Academics at BRAC Institute of Educational Development (BRAC IED), BRAC University, Dhaka Bangladesh. In addition, she is the lead of BRAC IED Learning Lab. She mainly teaches the Master of Education/Post-Graduate Diploma in Educational Leadership & School Improvement. At the institute, Dr. Manjuma has also been engaged in numerous development projects in different capacities.
Dr. Maria Rita Lucas is a teacher educator and an early childhood education practitioner and advocate from the Philippines. Her experience ranges from government initiatives for early childhood education such as national curriculum development, research in education policies and innovations, and she is Dean of the School of Education-Liberal Arts-Music- Social Work at CEU Manila. Recently, she has undertaken research on behalf of the ECCD Council of the Philippines to understand parents', teachers', and local leaders' awareness and perspectives on climate change, and subsequent implications for ECD services.
Caroline Dusabe is the Pacific  Education Senior Advisor at Save the Children Australia, and an Early Childhood Development expert with more than 12 years' experience in the ECD field in Africa and Asia-Pacific.
Moderator
Evelyn Santiago has been Executive Director of ARNEC since 2015 and has more than 20 years of professional experience in development work encompassing child rights, investment programming, strategic planning, project planning and design, program management, grants development and partnership building. She spent 10 years working for ChildFund International in the Philippines, Timor Leste and at the Asia Regional Office in Bangkok and worked previously with the German Technical Cooperation and the Central Economic Planning Ministry of the Philippine Government. Evelyn has a Master of Arts degree in Economics of Development from the Institute of Social Studies (ISS) – Erasmus University, The Hague, The Netherlands.
---
Related links