16 Dec 2019 | Switzerland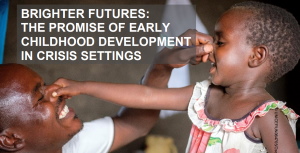 The UN is convening the inaugural Global Refugee Forum in Geneva 16-18 December 2019, following the compact agreed last year. The Forum presents a unique opportunity to ensure the needs of very young children and those who care for them are recognized in the discourse on refugee response. Moving Minds is co-sponsoring a spotlight session at the Forum on Monday 16th, to demonstrate high-level support and call for concrete commitments toward early childhood development (ECD) and nurturing care in refugee settings.
The session will showcase existing models of ECD programming in contexts of displacement, aligned with the Global Framework for Refugee Education, as well as policy and programming commitments and financial pledges.
Related links
• Download the flyer
• Download the Moving Minds brief
• Access the Global Refugee Forum web site here
---