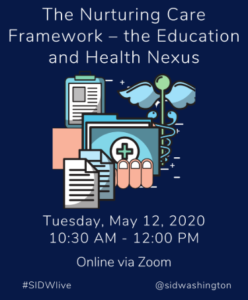 On 12 May 2020, the Society for International Development held a virtual panel discussion with representatives from USAID, International Rescue Committee and PATH to explore how these organizations are using the Nurturing Care Framework in humanitarian settings, nutrition programs, and within the health sector – before and during the COVID-19 pandemic.
Here's how the organizers of the event described it: "The Nurturing Care Framework draws on state-of-the-art evidence on how early childhood development can guide the most effective policies and services that will help parents and caregivers provide nurturing care for babies and very young children. The framework builds on the foundation of universal health coverage, with primary care at its core, as essential for all sustainable growth and development. It articulates the important role that all sectors, including the health sector, must play to support the healthy development of all children to develop optimally and reap maximum benefit from pre-school and formal education. In this event, panelists discussed their work with the Nurturing Care Framework, touching on how education and health intersect. They also highlight some of the work being done during the COVID-19 pandemic."
The Moderator of the event was Dr. Lara S. Ho, MHS, PhD, RN, Deputy Director of the Health Unit, International Rescue Committee, and the three speakers were:
Katie Murphy:  Senior Technical Advisor, Early Childhood Development, International Rescue Committee. Her talk was entitled: "The Nurturing Care Framework and Humanitarian Setting";
Erin Milner: Senior Nutrition Monitoring, Evaluation, and Learning Advisor, USAID. Her talk was entitled: "Donor Perspective on Early Childhood Development and Nutrition"; and
Matthew Frey: Director, Global Integrated ECD/Nurturing Care Program, PATH. His talk was entitled: "How Nurturing Care is Taking Root in the Health Sector".
Examples were given on how the Framework is being used in the Middle East (humanitarian settings) and Eastern Africa (strengthening health systems). The discussion on the Middle East looked at the "Reach Up and Learn" home visiting program in Lebanon, Jordan and Syria, which we have previously written about here. More information about the work in Eastern Africa is available here.
A more detailed summary of the event and contributions can be downloaded here.
---

Related links: