4th International Developmental Paediatrics Association (IDPA) Congress
Theme: Nurturing children in crisis
Hosts: IDPA and the Arab Network for Early Childhood Development (ANECD)
Language: Simultaneous discussion sessions in Arabic, English, Russian, and Spanish
Location: Virtual
Date: December 2-5, 2021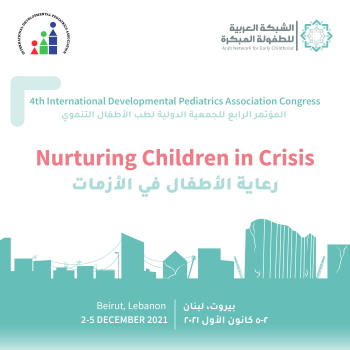 The 4th International Developmental Pediatrics Association (IDPA) Congress was held on December 2-5, 2021. IDPA and the Arab Network for Early Childhood Development (ANECD) hosted the event, which is held every two years on or around the International Day of Persons with Disabilities, December 3, in a low or middle-income country. The Congress was a virtual event, continuing the tradition of past Congresses in Istanbul (2015), Mumbai (2017), and Manila (2019), bringing together clinicians, researchers, and policymakers working for child development and disabilities from around the world.
The theme for 2021 was 'Nurturing Children in Crisis'. The pandemic continues to affect children of all ages in all countries and affects the poorest and the most vulnerable, such as those with chronic illness or disability, the most. Millions of these vulnerable children that are already facing poverty and inequity are trapped in situations of violent conflicts, occupation, and displacement. The COVID-19 crisis and its recession have exacerbated their already dire situation, thus further violating their fundamental rights. The Congress approached this issue within a framework that acknowledged the impact of families (particularly their mental health and wellbeing) and communities on the development of children.
Participants from around the world shared their research, model programs, and discussed their country experience. They discussed the multilayer impact of the COVID 19 pandemic and its effect on other crises like displaced children and children in war zones. Taking advantage of the online platform, the hosts ran simultaneous discussion sessions in Arabic, English, Russian and Spanish.
The Congress hosts had invited abstracts on research and practice related to how people have addressed the
challenges presented by the pandemic and other crises to support the development of children in low and middle-income
countries. They sought materials from professionals across a multitude of disciplines, including pediatrics, family medicine, public health, child mental health, physical medicine and rehabilitation, physiotherapy, occupational therapy, speech and language therapy, child development and education, early intervention, special education, social services, and other specialists working to nurture children and their families in this time of crisis.
• The full scientific programme of the Congress is available here.
For further information see https://developmentalpediatrics.net/.