Event
'Invest in Childcare' Stakeholder Update Meeting
Date
June 7, 2023
Time
9.30 - 11.00am EDT
Location
Online and Washington, USA
Description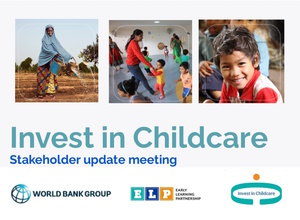 This meeting:
Shared updates on the Invest in Childcare initiative launched by the World Bank Group (WBG) in 2021.
Provided an opportunity to hear about the Invest in Childcare work program, progress to date, and upcoming priorities for the initiative.
About Invest in Childcare
Invest in Childcare is an ambitious effort to expand and improve the quality of WBG investments in childcare.  The initiative aims to catalyze a whole-of-WBG approach to support country teams and client countries to increase and improve investments in quality childcare in low- and middle- income countries by leveraging research, analytical work, operations and policy dialogue.