| | |
| --- | --- |
| Event | Global Launch of the Nurturing Care Handbook and Nurturing Care Practice Guide |
| Date | 28 March 2023 |
| Time | 8:00am EST / 2:00pm CET / 3:00pm EAT / 5:30pm IST |
| Language | English with simultaneous interpretation in French and Spanish. |
Description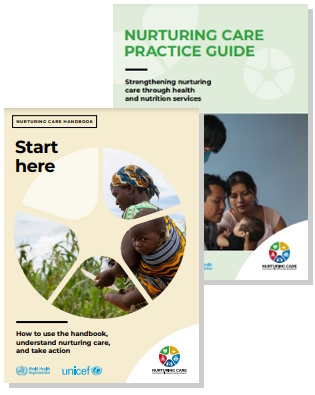 The Nurturing Care Handbook and Nurturing Care Practice Guide have been developed by the World Health Organization and UNICEF, and form part of a series of resources to support implementation of the Nurturing Care Framework.
This webinar included an overview of the two publications as well as reflections on how they build on existing packages and can be used to enhance advocacy and capacity-building efforts at regional and national levels.
The webinar was organized by the World Health Organization and UNICEF in collaboration with the Network for Improving Quality of Care for Maternal, Newborn and Child Health, the Quality of Care subgroup of the Child Health Task Force, and the ECD Action Network.
Nurturing Care Handbook: Like the Nurturing Care Framework, the Handbook is organized around five strategic actions. There is a separate guide for each and Start Here is designed to work in combination with any – or all – of them. For each strategic action, the guides include: overviews, suggested actions, common barriers, tools and checklists for common tasks, indicators for monitoring progress, links to helpful articles and websites, and case studies, showing how governments and other stakeholders around the world can put nurturing care into practice. This version incorporates feedback provided on a draft version that was released in 2021.
Nurturing Care Practice Guide: This Guide addresses the important question we've all been asking ourselves. We know responsive caregiving, opportunities for early learning, safety and security, and caregiver well-being all need more attention in health and nutrition services. But how can we help managers and service providers to do this? The Guide responds to this question. Intended to be used as a complement to existing training packages, it provides the rationale for giving greater attention to these four components; describes what managers can do to prepare services and better equip service providers; and includes practical suggestions for what service providers can do as part of their ongoing contacts with families. The Guide is available as a complete document, by section, or by service type.
• Nurturing care handbook
• Nurturing care practice guide
Speakers
Erinna Dia ECD Associate Director Nutrition and Child Development Section, UNICEF
Bernadette Daelmans Unit Head Child Health and Development Unit, World Health Organization
Anne Detjen Child Health Specialist Child and Community Health Unit, UNICEF
Caroline Mwangi Head, Division of Neonatal and Child Health, Ministry of Health, Kenya
Oka René Kouame Coordinating Director, National Nutrition Program, Ministry of Health, Public Hygiene and Universal Health Coverage, Ivory Coast
Melanie Picolo Maternal, Newborn, Child Health and Nutrition Program Manager, PATH Mozambique
Rajesh Mehta Consultant to World Health Organization, Former Regional Adviser, World Health Organization South-East Asia Regional Office
Anshu Banerjee Assistant Director-General (a.i), Division of Universal Health Coverage & Life course and Director, Department of Maternal, Newborn, Child and Adolescent Health and Ageing, World Health Organization
Sheila Manji ECD Specialist, Child Health and Development Unit, World Health Organization
Moderators
Boniface Kakhobwe ECD Specialist, Nutrition and Child Development Section, UNICEF
Shekufeh Zonji Global Technical Lead, Early Childhood Development Action Network
---
Related links
Additional resources