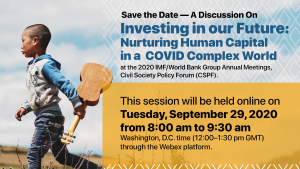 Before COVID-19, 250 million children were at risk of not reaching their developmental potential. COVID-19 has disrupted services for the nurturing care of young children. Decades of progress are threatened. The developmental needs of ALL young children must remain a priority as we build back better, more equitable policies and systems.
This webinar was held at 2020 IMF/World Bank Group Annual Meetings, Civil Society Policy Forum. It examined the impact of major disruptions in services for the nurturing care and development of all young children as a result of COVID-19. It presented a new tool: "Cost of Inaction for Young Children," and identified pathways to increase investments for young children.
This event was co-hosted by ECDAN, ChildFund International, the Global Campaign for Education-US, Light for the World, PATH, Save the Children International and UNICEF, with support from the Open Society Foundations.
You can watch the recording 
here
.
Speakers:
Dr. Hana Brixi — Manager, Human Capital Project, World Bank. Dr. Brixi leads a global effort to accelerate more and better investments in people for greater equity and economic growth.
Dr. Jere R. Behrman — Professor of Economics, University of Pennsylvania. He is also a Research Associate at Penn's Population Studies Center, and a leading international researcher in empirical microeconomics, with emphasis on developing economies.
Nafisa Baboo — Director, Inclusive Education, Light for the World & Board Member, Global Campaign for Education. She is a qualified speech-language therapist and audiologist, with a Masters in Inclusive Education focused on the inclusion of blind students in regular schools.
Gwen Hines — Executive Director of Global Programmes, Save the Children UK. She has worked in international development for 20 years, most recently as International Programmes Director at the Department for International Development (DFID).