Event
Strengthening Health Care Practitioners' Competencies to Support Nurturing Care
Date
May 23, 2023
Time
10.30 - 12.00 CEST
Location
Online
Description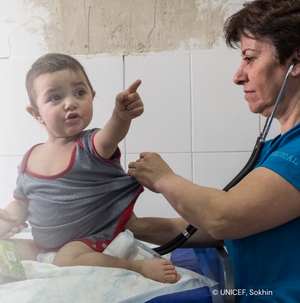 Strengthening health care practitioners' competencies to support nurturing care and early childhood development (ECD) is a strategic action to put the Nurturing Care Framework  (NCF) roadmap into action. The health system has an extensive reach among caregivers and young children since health professionals have continuous contact with parents before and after birth. Thus, they are very well-positioned to play a central role in promoting nurturing care and child development. In addition to good health and adequate nutrition–topics frequently tackled in health professionals' training– nurturing care also encompasses responsive caregiving, protection from threats, and opportunities for early learning.
This webinar presented concrete examples of pre- and in-service training designed for health care practitioners aimed at strengthening their capacity to support caregivers to provide nurturing care and promote ECD as part of their routine practice. Opportunities and barriers for professional development focusing on ECD and nurturing care, and the most common entry points to integrate ECD-related content were explored. ECD services include parent counselling on child development, monitoring of developmental milestones, guidance on age-appropriate play and communication activities (e.g., book-shared reading), identification of developmental difficulties and referral, among others.
A qualified workforce of doctors, nurses, midwives, and health agents, with acquired competencies, skills, and up-to-date knowledge on ECD and how to support nurturing interactions, is essential for achieving the child development outcomes envisioned by the NCF, and for improving the quality of services.
This webinar was organized by UNICEF Regional Office for Europe and Central Asia (ECARO), WHO Regional Office for Europe (WHO/Europe), and the International Step by Step Association (ISSA) under the auspices of the Health Systems for Early Childhood Development initiative.
---
Related links
• Recordings in English, Russian and Bosnian
• Slides
• Further information