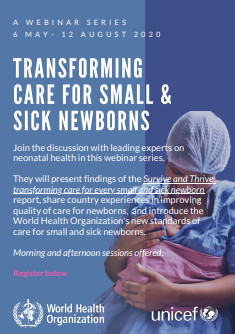 Join the discussion with leading experts on neonatal health as they present findings from the 'Survive and Thrive: transforming care for every small and sick newborn' report (more) and share country experiences in improving quality of care for newborns, in the context of the WHO's new standards of care for small and sick newborns.
This is the 2nd webinar in a series on transforming care for small and sick newborns. You can download more information about the series here.
10am: Joy Lawn from the London School of Hygiene and Tropical Medicine speaks on the Nepal experience (register here).
1pm: Joy Lawn speaks on the perspective from WHO Regional Office for the Eastern Mediterranean (register here).