Event
The Future of Counseling within GMP: A Learning Agenda to Shape Policy and Programming Priorities
Date
13 September 2023
Time
8:30–9:30 am EDT / 14:30–15:30 CET / 15:30–16:30 EAT / 17:30–18:30 IST
Language(s)
English and French
Location
Online
Description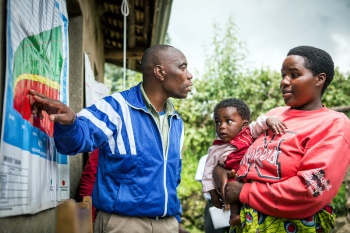 In 178 countries worldwide, growth monitoring and promotion (GMP) continues to be an important entry point for preventive care and essential child health, nutrition, and development services. Given the varying levels of quality and success, country leadership and global teams are working to strengthen GMP.
In 2018, global thought leaders recommended a paradigm shift to better integrate child growth and development and strengthen promotion, including counseling (Bégin et al. 2020). In 2022, in collaboration with UNICEF, the World Health Organization (WHO), and the Global Financing Facility (GFF) of the World Bank, USAID and USAID Advancing Nutrition hosted a GMP expert consultation, during which experts, researchers, government stakeholders, and implementers discussed advances in GMP since the 2018 meeting.
Recognizing a persistent gap around counseling within GMP, USAID and partners developed a learning agenda to inform future research and learning investments. Join us to discuss and contribute to this learning agenda to better achieve child health globally!
Speakers
Elaine Gray, Senior Nutrition Advisor, USAID Bureau for Global Health
Lisa Sherburne, Director of SBC, USAID Advancing Nutrition
Akriti Singh, Nutrition and Health Systems Technical Advisor, USAID Advancing Nutrition
Kelsey Torres, Nutrition and Social and Behavior Change Advisor, USAID Advancing Nutrition
Moderator: Adugna Yimam, Senior Technical Advisor for Health and Nutrition, Action Against Hunger
---
L'avenir du conseil au sein de GMP :
Un programme d'apprentissage pour façonner les priorités en matière de politiques et de programmes
Date: mercredi, 13 septembre, 2023
Heure: 8:30-9:300 am HNE / 14:30–15:30 CEST / 15:30–16:30 EAT / 17:30–18:30 IST
Dans 178 pays à travers le monde, le suivi et la promotion de la croissance (GMP) continuent d'être un point d'entrée important pour les soins préventifs et les services essentiels de santé, de nutrition et de développement de l'enfant. Compte tenu des différents niveaux de qualité et de réussite, les dirigeants nationaux et les équipes mondiales s'efforcent de renforcer GMP.
En 2018, des leaders d'opinion mondiaux ont recommandé un changement de paradigme pour mieux intégrer la croissance et le développement de l'enfant et renforcer la promotion, y compris le conseil (Bégin et al. 2020). En 2022, en collaboration avec l'UNICEF, l'Organisation mondiale de la santé (OMS) et le Mécanisme de financement mondial (GFF) de la Banque mondiale, l'USAID et USAID Advancing Nutrition ont organisé une consultation d'experts sur les BPF, au cours de laquelle des experts, des chercheurs, des parties prenantes gouvernementales et les responsables de la mise en œuvre ont discuté des progrès réalisés en matière de GMP depuis la réunion de 2018.
Reconnaissant une lacune persistante en matière de conseil au sein de GMP, l'USAID et ses partenaires ont élaboré un programme d'apprentissage pour éclairer les futurs investissements en matière de recherche et d'apprentissage. Rejoignez-nous pour discuter et contribuer à ce programme d'apprentissage visant à améliorer la santé des enfants à l'échelle mondiale !
Intervenants
Elaine Gray, Conseiller principal en nutrition, Bureau de l'USAID pour la santé mondiale
Lisa Sherburne, Directeur de SBC, l'USAID Advancing Nutrition
Akriti Singh, Conseiller en nutrition et systèmes de santé, l'USAID Advancing Nutrition
Kelsey Torres, Conseiller en nutrition et changement social et comportemental, l'USAID Advancing Nutrition
Modérateur: Adugna Yimam, Conseiller technique principal pour la santé et la nutrition, Action contre la faim