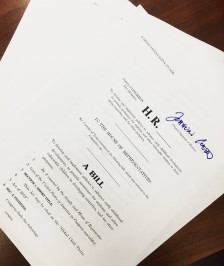 On October 28, 2019, Senators Roy Blunt (R-MO), Chris Coons (D-DE), Representatives Joaquin Castro (D-TX) and Brian Fitzpatrick (R-PA) introduced the bipartisan, bicameral Global Child Thrive Act in the U.S. Senate.
The Act will direct the U.S. administration to advance policies and programs that advance early childhood development internationally.
"We've seen the impact that investment in early childhood development has back home," said Congressman Castro. "To help all kids succeed, it's never been more important that we show that same commitment on a global scale. The... Global Child Thrive Act responds to difficult conditions abroad, advances effective initiatives, and empowers the world's children," said Congressman Joaquin Castro.
"With nearly 250 million children in low- and middle-income countries suffering from poor development due to poverty and stunting alone, it's critical that that we do everything possible to support children in meeting their developmental milestones," said Senator Coons.
The Act expands the number of agencies over which the Special Advisor has explicit authority to coordinate early childhood development policies. It also directs the U.S. Agency for International Development to engage relevant executive agencies to incorporate early childhood development into current programming over the next five years.
You can read the senators' joint press release on the Act here and a response from Catholic Relief Services here. The full text of the Act (as of Oct 29, 2019) is available here.