Initiative supported by WHO and UNICEF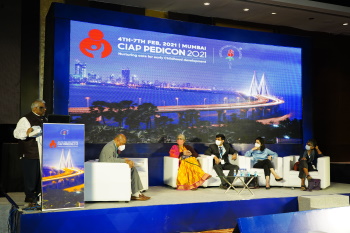 The Indian Academy of Pediatrics (IAP) has more than 33,000 members across the country and is one of the largest professional associations of pediatricians in the region. In 2019, the President wrote about the important role pediatricians play in bridging science and parenting. Building on this, the IAP, working closely with the World Health Organization and UNICEF, have continued to draw attention to the important role pediatricians can play and are developing materials to support their practice. 
Activities completed:
Consensus statement of IAP on ECD (September 2020)
National Conference of IAP in Mumbai (58th PEDICON) organized around the theme Nurturing Care for ECD. A Mumbai Call for Action and Presidents Action plan for ECD were formally announced (February 2021).
The Mumbai Call for Action was published in the March 2021 issue of Indian Pediatrics,
A National Multistakeholder Consultation on Nurturing Care for ECD was organised in March 2021.

Review of curriculum for undergraduate and postgraduate medical students 

to incorporate ECD-related competencies and prepare recommendations for integrating NC for ECD into the undergraduate and postgraduate curricula. Recommendations were sent to the national authority (July 2021) and published in a special supplement of Indian Pediatrics (October 2021). 
A special supplement of the IAP's indexed journal (Indian Pediatrics) entitled Nurturing care for ECD in India and a position paper in the main issue (October 2021).
Initiated the training programme under the President's Action Plan on ECD which includes training of 8,000 paediatricians/ IAP members (over the next 2-3 years) for incorporating nurturing care components in their office practise.
---
For more information:
Indian Academy of Pediatrics
President's page (October 2019)
Consensus statement (September 2020)
National conference (58th PEDICON) website, programme
Mumbai Call for Action (March 2021)
IAP task force recommendations for incorporating NC for ECD in medical education in India (July 2021)
IAP's Position Paper on NC for ECD (October 2021)
Indian Pediatrics Special supplement "NC for ECD in India" (October 2021)

For more details contact:
Dr Deepti Agrawal (agrawald@who.int) and Dr. Rajesh Mehta (mehtara@who.int).