Study Tour, November 12 – 16, 2018
From November 12-16, 2018, the Ministry of Health, Kazakhstan, Department of Health, Kyzylorda, and UNICEF Kazakhstan invited about 20 government, partner and UNICEF representatives from Uzbekistan and Kyrgyzstan to participate in a study tour to a remote region of the country.
The purpose was to share in Kazakhstan's lessons-learned in an exciting pilot project in Kyzylorda on universal progressive home visiting to support families in nurturing care. Supported by general practitioners, Patronage Nurses, with comprehensive training in all components of nurturing care and in case management, provide a package of universal services to all pregnant women and families of children under five years.
Using a strength-based approach and in partnership with families, patronage nurses provide essential information about child health, development and well-being and identify at-risk or vulnerable families. In situations of psycho-social challenges (e.g. maternal depression, difficulties in the parent child relationship, poor living conditions), where children are delayed in their development or suffer from maltreatment, families benefit from the progressive (indicated) component of the program — under the supervision of the senior nurse, patronage nurses involve the social worker, psychologist, or other members of the PHC team. In cases of critical needs for food, heat, specialized health services, housing, or access to pre-schools, a committee, chaired by the Akim (head of municipality) and with membership of all relevant local agencies, determines what each agency at the table can contribute to improve a family's conditions.
Reductions in infant mortality and improvements in breastfeeding, as well as moving individual families out of their "high-risk status", are some of the early achievements reported by the pilot areas in Kyzylorda. In addition, pre-service training in the Nurturing Care resource modules for patronage nurses is now integrated at pre-service level in 14 medical colleges of applied sciences and the Kazakh Medical University of Continuous Education across Kazakhstan.
The Kyzylorda IMCI Resource Center is training general physicians, home visitors, social workers and other PHC staff, including those from outside the oblast, in this approach. It participates in the monitoring of the quality of implementation of the universal-progressive model.
During the study tour, participants learned about the concepts of nurturing care on which this pilot (about to be scaled up by the Government) is based. They also accompanied patronage nurses on home visits and were impressed with their supportive interactions with the families they serve. Additionally, at the PHC centers, participants observed individualized food preparation sessions to assist caregivers with complementary feeding and early stimulation sessions, and discussed the transferability of the approach to their own settings with the PHC staff.
The Government of Kazakhstan, in partnership with the Network of IMCI Resource Centers and professional associations, is committed to replicating this approach across all oblasts of the country for a healthier and more productive young generation. The Government is even considering assisting some of its neighboring countries with the introduction of the universal progressive model to support families of young children in line with SDG 17: Strengthen the means of implementation and revitalize the global partnership for sustainable development.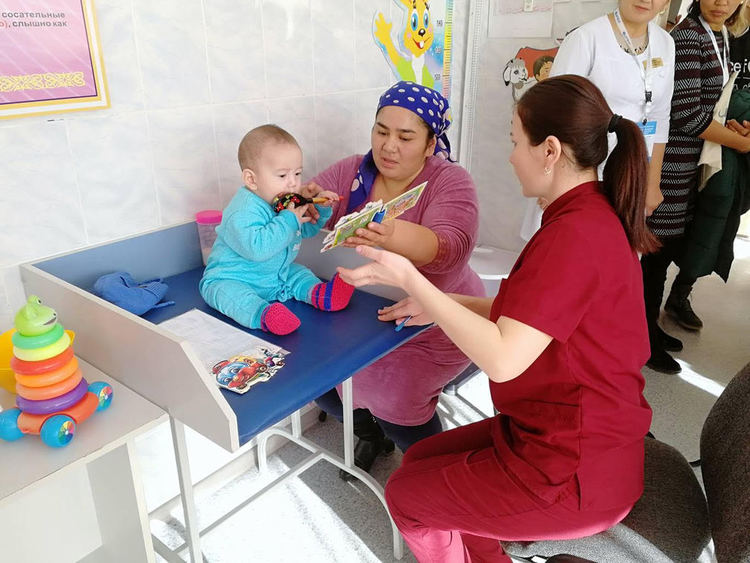 Counselling caregivers on supporting early child development in the resource room of the primary healthcare centre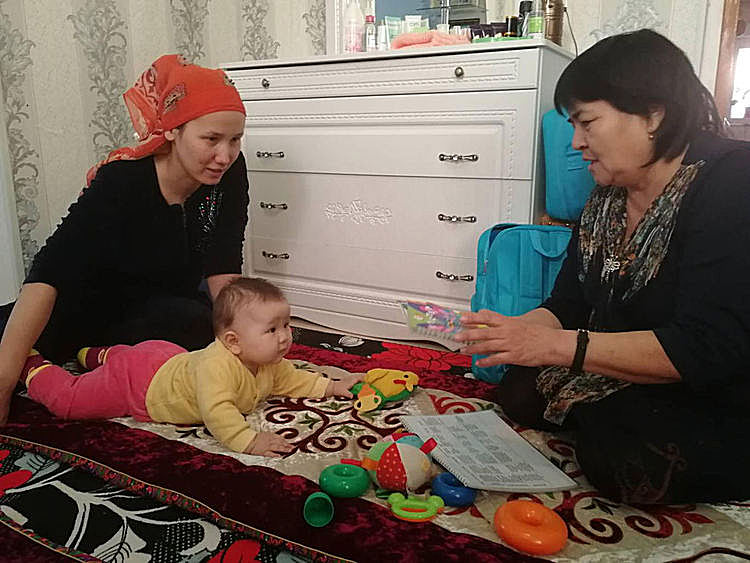 Patronage nurse supports a mother on nurturing care/young child health, development and wellbeing through home visiting