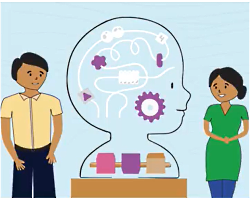 In May-June 2020, Ummeed* conducted a needs assessment with their partner community-based organisations across India by phone. It was to understand how parents and caregivers were coping with the COVID-19 pandemic, especially as it related to their ability to provide nurturing care for their children. In their consultations with Community Health Workers (CHWs) two dominant themes emerged:
(a) increased mental stress among caregivers owing to the pandemic and its resulting restrictions; and
(b) caregivers were experiencing difficulty to engage their young children at home in this 'new normal' situation.
Reduced access to food, inadequate medical services and loss of livelihood coupled with increased alcoholism and domestic violence were among the many stressors.
The CHWs, many of whom are parents and caregivers themselves, were dealing with the same stressors in their own homes. There was a palpable sense of helplessness in the face of uncertainty and what seemed like insurmountable challenges.
Online workshops and videos
To respond to the rise in mental stress among community health workers, parents and caregivers, the Ummeed ECDD (Early Childhood Development and Disability) team developed three online workshops and accompanying videos.
The workshops are two hours in length and delivered online via Zoom or Google Meet in the local language of the CHWs.
Workshop 1: Mental health support for CHWs
As CHWs live in the same communities as the parents and caregivers they support, they too are experiencing the same stressors and feeling burnt out. Thus, this workshop focuses on the mental health needs of the CHWs. Participants explored what is mental health and why it matters, what can impact our mental health especially in the context of the COVID-19 pandemic, and identified some "little yet bit" things they could do in their everyday life to take care of themselves. The language of instruction was mostly Hindi or bi-lingual with vernacular where needed. Ummeed interacted with 106 participants from 11 organisations over 13 workshops with not more than 8 to 10 participants in each workshop.
Workshop 2: Mental Health support for caregivers and parents
For the second workshop, a short animated video was developed by Ummeed on strategies to support mental health for caregivers. The video has been translated to Hindi, Marathi, Gujarati and English for wider reach. During the workshop participants explored the impact of the pandemic on caregivers' and parents' mental health, watched the video and discussed how the video can be disseminated in their communities. They also discussed how the video could be a conversation starter on the "little big things" caregivers can do to take care of their mental health. The CHWs having experienced the mental health workshop before felt better equipped to understand and talk about caregiver mental health. After the workshop, the video was shared with the CHWs via WhatsApp for further dissemination. Ummeed interacted with 100 participants from 11 organisations over 7 workshops.
Workshop 3: Promoting Early Childhood Development (ECD) in challenging times
For this workshop also a short animated video was created on promoting ECD in children 0 to 3 years. The video is available in Hindi and English. During this workshop, the CHWs explored how the pandemic has affected the five components of nurturing care and how they can support the caregivers in their communities to promote their child's development. The participants watched the video during the workshop and brainstormed ways to disseminate the video. After the workshop, the video was shared with the CHWs on WhatsApp for further dissemination. This workshop is ongoing.
Further information:
To view the videos visit –
https://drive.google.com/drive/folders/1uRQjOjMJ74x7ZdOPkqZRPHv5CexO69cF?usp=sharing
To learn more about the program and/or discuss translation, contact Aditi Brahmabhatt (aditi.brahmabhatt@ummeed.org).
---
* About Ummeed
Since 2001, Ummeed Child Development Centre, based in Mumbai, India, has been helping children with developmental disabilities reach their full potential and be included in society. Ummeed's ECDD team uses a model that works collaboratively with community-based organizations (CBOs) to build capacity of their frontline workforce (community health workers and supervisors) in monitoring and promoting ECD, and addressing risk factors and challenges in ECD.
To learn more about Ummeed Child Development Center visit https://ummeed.org