Event
WHO Guideline for Complementary Feeding of Infants and Young Children 6-23 Months
Date
6 December 2023
Time
09:00 – 10:15 EST | 15:00 – 16:15 CET | 19:30 – 20:45 IST | 22:00 – 23:15 PHST
Language(s)
To be advised
Location
Online
Description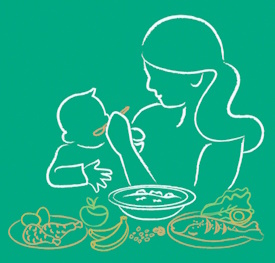 Complementary feeding, defined as the process of providing foods in addition to milk when breast milk or milk formula alone are no longer adequate to meet nutritional requirements, generally starts at age 6 months and continues until 23 months of age. This is a developmental period when it is critical for children to learn to accept healthy foods and beverages and establish long-term dietary patterns. It also coincides with the peak period for risk of growth faltering and nutrient deficiencies leading to immediate and long-term consequences of malnutrition and increased risk of non-communicable diseases.
UNICEF and WHO invite you to a webinar introducing the new WHO Guideline for Complementary Feeding of Infants and Young Children 6-23 Months of Age. This webinar will provide an overview of the current situation with respect to complementary feeding in low- and middle-income countries, the new WHO Guideline on complementary feeding of infants and young children 6 to 23 months of age, considerations for implementation of the Guideline, and a new global alliance to address complementary feeding.
Objectives
Understand the current situation and trends in complementary feeding;
Become familiar with the new WHO Guideline on complementary feeding and considerations for implementation;
Discuss future steps for policies and programmes to improve complementary feeding.
Speakers
Moderator: Chessa Lutter, Senior Nutrition Researcher and Senior Fellow at Research Triangle Institute International.
Grainne Moloney, Senior Advisor, Early Childhood Nutrition. Nutrition and Child Development, Programme Group, UNICEF: Setting the scene – Fed to fail
Laurence Grummer-Strawn, Unit Head, Food and Nutrition Action in Health Systems Department of Nutrition and Food Safety, WHO: Summary of updated WHO guideline on complementary feeding
Alissa Pries, Consultant, WHO: Considerations for implementation for the guideline
Linda Shaker Berbari, UNICEF: The global complementary feeding collective
Chessa Lutter: Q&A
---
Related Links
• WHO Guideline for Complementary Feeding of Infants and Young Children 6-23 Months of Age