Event
Webinar Series: Strengthening Nurturing Care in Humanitarian Response
3: Discussion with Health Cluster Coordinators: Institutionalizing Nurturing Care in Humanitarian Health Interventions
Date
20 November 2023
Time
14:00 CET
Language(s)
English, French, Spanish and Arabic
Location
Online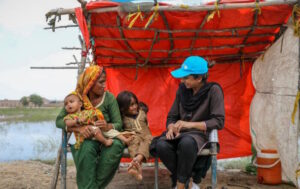 Humanitarian actors are able to provide lifesaving services and interventions to meet young children's holistic needs and improve outcomes for young children affected by humanitarian crises. Nurturing care comprises of five interrelated and indivisible components: good health; adequate nutrition; safety and security; responsive caregiving; and opportunities for early learning. 
Description
The previous two webinars in this series presented the evidence behind addressing the specific care needs of young children and their caregivers in humanitarian settings, and examples of age-appropriate interventions where nurturing care approaches have been successfully integrated into health systems and humanitarian responses, significantly shaping children's healthy development.
This third webinar built on the learning from the previous webinars, and provided an opportunity for health cluster coordinators to discuss opportunities to integrate and monitor quality early childhood development interventions into humanitarian health responses. Health Cluster Coordinators explored this topic through a lens of inter-sectoral collaboration, to define how specific actions that contribute to nurturing care for children and their caregivers, relevant to the setting and the phase of the crises, can be sustained by health cluster partners.
Moderated by Linda Doull, the webinar also featured:
Ayesha Kadir, Senior Humanitarian Health Advisor at Save the Children International, who provided a summary of the key points from the two previous webinars. She discussed the impact of stress on early child development, focusing on the critical period before birth to age 3, and then presented the nurturing care framework, emphasizing components like good health, nutrition, safety, responsive caregiving, and early learning opportunities. Ayesha highlighted the framework's role in addressing social determinants to save children's lives during emergencies.
Ron Pouwels, Child Protection AoR, UNICEF, who highlighted the interconnected nature of children's rights outlined in the Convention on the Rights of the Child, emphasizing how crises expose children to violence and separation. He discussed the child protection sector's role in supporting early childhood development, ensuring safety, promoting responsive caregiving, and building resilience. Ron cited examples of child protection activities contributing to ECD, referenced Child Protection Minimum Standards, and emphasized coordination with health and nutrition for a comprehensive nurturing care approach.
Amir Yarparvar of UNICEF Lebanon, who stressed the significance of nutrition and caregiving for healthy brain development in children. He introduced Lebanon's Rising initiative, which employs community health workers and digital platforms to address malnutrition and developmental delays. The initiative involves screening, milestone tracking, and training frontline workers in the nurturing care framework. Amir emphasized institutionalizing milestone screening and spoke of an upcoming nutrition and ECD survey in Lebanon to provide updated evidence and inform future programming and policies.
Penn Amaah, Health Cluster Coordinator in Ukraine, who noted the absence of specific early childhood development (ECD) mentions in humanitarian response plans. He emphasized the importance of integrating ECD into needs assessments, strategic planning, and emergency response designs. He highlighted community-based programming, leveraging existing local capacities, and outlined challenges such as differing priorities, costs, and cultural nuances. Penn stressed the need for advocacy to prioritize ECD, analyzing sector work for context-specific interventions, and promoting coordination through area-based approaches. He called for strategic advocacy, cross-sector analysis, and context-specific definitions of minimum service standards and indicators for ECD.
Overall, the discussion reinforced the need for a greater understanding of current ECD work, strengthened collaboration, and institutionalized ECD within strategic planning, programming, and monitoring in humanitarian health responses.
---
Related Links
• Recording of the event
• Health Cluster YouTube channel, with recordings of all three webinars in the series
• First webinar in the series
• Second webinar in the series
• Global Health Cluster page
• Webinar 3 Flyer