Event
Webinar Series: Strengthening Nurturing Care in Humanitarian Response
1: The Science Behind Caring for Young Children: Strengthening Nurturing Care Approaches to Achieve Better Health Outcomes
Date
27 September 2023
Time
15:00 – 16:30 CET
Language(s)
English, French, Spanish and Arabic
Location
Online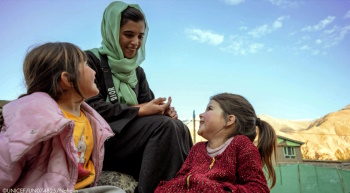 The Global Health Cluster is collaborating with the Child Health Task Force, Inter-agency Network for Education in Emergencies, and other partners to incorporate the Nurturing Care Framework into the health sector contribution to humanitarian responses for children, caregivers, and families. Learning from leading scientists and practitioners, attend this webinar series to discover evidence-based, equitable, and comprehensive early childhood development programs that enhance outcomes for young children in humanitarian crises. Don't miss the opportunity to learn to create quality responses sensitive to their needs and improve holistic support to children in emergencies.
Description
The first years of life, from prenatal development to eight years of age, are a critical period. The rapid neurological and physical growth that occurs during this period provides an opportunity to optimize developmental outcomes that impact the entire course of an individual's life. Crises increase the likelihood of later impairments in all areas of a child's development.
Recognizing that humanitarian actors are able to provide lifesaving services and interventions to meet children's acute and ongoing health needs and help buffer young children from the negative impact of crises and emergencies. Rather than developing new programs and delivery mechanisms, the humanitarian health sector would improve its effectiveness by integrating ECD into existing services, significantly shaping responsive caregiving, early learning, nutrition, health, and protection of children, which are critical for children's healthy development.
The webinar will focus on sharing evidence on implementing equitable, comprehensive, and integrated programs that will translate into better outcomes for young children affected by emergencies and humanitarian crises.
Moderators and Panelists
Child Health in Emergencies and Humanitarian Settings sub-group (CHiHES): Ayesha Kadir, Senior Humanitarian Health Advisor, Save the Children International
Child Health and Development Unit at the World Health Organization: Sheila Manji, ECD Specialist
Harvard, Center on the Developing Child: James Cairns
• More information from the WHO Health Cluster website
• Download the event flyer
---
Other events in this webinar series:
• Webinar 2: Programming in Action: Nurturing Care Integrated into National Health Systems